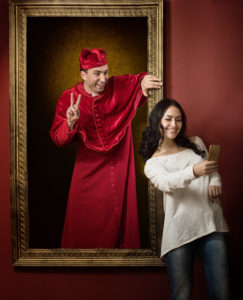 Van Gogh and Virtual Reality. Twitter and Tchaikovsky. If you never thought you would see this placement of words together, you're not alone. Technology evolves daily. With this evolution comes change and disruption to businesses and industries on a global level.
Yet, in the industry of museums, the very technology that was expected to disrupt their age's old way of operation has very well played an integral part in keeping museums up-to-date.
Believe it or not, museums play an integral role in the economy. They contribute more than $50 billion a year to the United States economy and support more than 726,000 American jobs. According to a study done by the American Alliance of Museums, museums outrank sporting events in attendance annually, lingering in the 850 million range. While many thought the museum industry was set to slow down, it has in fact done the exact opposite. American Alliance of Museums Board of Directors member, Dr. Robert Davis contributes this success to a number of factors such as education and awareness but also contributes the growth to technology.
Dr. Robert Davis of Dubuque, Iowa has been an active member of the zoo and museum industry for over 25 years. In his various roles, he has seen and overseen the implementation of different exhibits and educational initiatives, often spearheaded by technology. Though unwelcomed at first by many traditionalists, technology has done wonders for boosting the industry.
One example that is unconventional, yet a significant part of the industry, is online visits. In addition to their brick and mortar visitors, museums all across the country experience millions of online visits each year. Museums serve as a major source of reference and educational use for teachers, professors, and students alike. The role of the museum is to serve a diverse community of people. By being accessible online, this makes it easier to achieve that goal. Interactive and engaging curated content is vital to achieving this.
Another example that is more visible to museum patrons is the use of technology within the exhibits themselves. Whether it's a museum in New York City or in Dubuque, Iowa, Robert Davis notes that technological integration into exhibits has become widespread. Many still remember how revolutionary it was to include audio into a museum exhibit. Now, tablets, virtual reality headsets, and mobile applications make it easier to access supplemental information while in the exhibit. We can walk amongst the dinosaurs or converse with Napoleon instead of simply reading about it on a tiny placard.
The way we experience museums has changed, but the educational value is still the same. The stuffy museum experience is long gone. With new-age technology integrated seamlessly into museums, the only thing old about them is the artifacts.